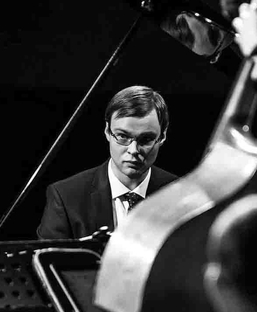 Background
Linas Karaliūnas was born in Užupis, Vilnius in 1989. He grew up surrounded by music since childhood. His father, a popular pianist, had various musical instruments and recordings in his home. For a while, musical instruments were just an entertainment, as Linas became seriously interested in music at the age of 14, when he started playing bass guitar in local blues band. Later, he chose jazz and started to learn piano. Linas' first music teacher was his Dad.

Education

In 2006 he enrolled the Vilnius Juozas Tallat-Kelpša Conservatoire and studied piano with Associate Professor Sigitas Giedraitis. Later, pianist Andrei Polevikov became his music teacher and friend. After graduating from the Conservatoire, he continued his music studies at the Faculty of Arts of Vilnius College with the legendary jazz performer and teacher Vladimir Chekasin, and participated in many of the Maestro's projects.
During his studies, he was most influenced by the music of Bill Evans, Red Garland, Wynton Kelly, Kenny Barron, Diana Krall, Tom Jobim, Eliane Elias and Michel Camilo. Later on, he developed a great interest in Latin American rhythms.
While studying at the Juozas Tallat-Kelpša Conservatory, Linas rehearsed with his friends in the basement of the Conservatory. There, the idea of founding the Retired Musicians Social Club (RMSC) was born. The young performers, in order to purify their approach to music and life, resisted the established traditions of music studying, and having full support and encouragement of Associate Professor Sigitas Giedraitis, they began to search for new methodologies and concepts of music learning and performance.
Later, Linas Karaliūnas, together with double bassist Gediminas Svilas and drummer Viktoras Krasauskas, founded the first piano trio. They met Vilius Streckis (saxophone), the ensemble became the main musical core of the Conservatory and Vilnius College. The group performed many concerts, accompanied soloists in various performances and competitions, and participated in many projects of Vladimir Chekasin: Tango Extremal - Birštonas Jazz 2008 and Nida Jazz 2008, and then Birštonas Jazz 2010 in a joint project with the students of Edinburgh Conservatoire (Scotland).

Musical activities
Linas Karaliūnas' solo musical and concert activity with the band RMSC began in 2006 and continues to this day in Lithuania, Ukraine, Germany, the Netherlands, Latvia and Estonia. He participates in representative events of state institutions and private companies, opening of international conferences, exhibitions.
In 2007 the festival "Street Music Day" was the first performance with the Conservatory students;
2008 live music concert "Disco Roots Live Band" with soloist Kristina Žaldokaite, performers Jievars Jasinksis, Dariush Loznikov, Rolandas Vilkevičius, Viktoras Krasauskas, Žilvinas Stončius, Vytautas Rasimavičius;
In 2008 Lino Trio & Ingrida with soloist Ingrida Žiliūte, drummer Viktor Krasauskas and bassist Gediminas Svilas represented Lithuania at the International Literature Festival in Lviv, Ukraine;
In 2011-2012, with bassist Gediminas Svilas and soloist Diana Anisko, performed in various cities in Germany and the Netherlands, took part in music events and seminars, made friends with international performers and gained a lot of musical and artistic experience;
As the RMSC club and band activities expanded and the number of musical projects grew, drummer Gediminas Stankevičius joined.
Antonio Palmisani, a singer from Italy, discovered a common musical language and approach to life. In 2013, RMSC with Antonio Palmisani and the project "Visions from Brazil" toured in Vilnius, Kaunas, Klaipėda, Palanga and Šiauliai;
In 2014, together with RMSC performed at the 55th anniversary of the legendary Vilnius restaurant Neringa;
In 2016, with the project of the Ministry of Foreign Affairs of the Republic of Lithuania, together with RMSC represented Lithuania at the International Jazz Festival "Jazz at Philharmonic XIII" in Kaliningrad, accompanying the Grammy Award-winning, renowned US artist Mandy Gaines. And many other projects.

Since 2018 Linas Karaliūnas lives in Panevėžys and works in a music recording studio.

Karaliūnas' music has been described as multidimensional. His in-depth study of traditional jazz and a variety of South American styles gives his music its mature colours, precision, distinctive style and original concept. It reflects a variety of cultures.



Here's what others have said about his music:

"Three people, three characters, three philosophies, three musical outlooks merge into one - this is what a jazz trio looks like. Each member of the trio can turn the lively flow of jazz improvisation in the most unexpected direction, making each piece a journey whose turns are impossible to predict for either the audience or the performers themselves. The trio's music is like a lively discussion, and the topics for discussion are the well-known golden standards of jazz. The Trio was the very first core of the RMSC. Respecting the tradition of jazz, they began to delve into the philosophy and musical subtleties of jazz and have maintained this concept to this day."
Translated from: "Geltonos sofos klubas"
* * *
"The final stop on "In Latino's" journey and wanderings in Latin America is Brazil. The rhythms and sounds of its music: samba, bossa nova, spiced with jazz. And, of course, Musica Popular Brasileira. After discovering and enjoying the sights, smells and spices of Mexico, uncovering the secrets of Venezuela, listening to the literary texts of Uruguay, savouring the wine from Chile's vineyards, wander through visions. Musical visions from Brazil with Antonio Palmisani (Italy) and Retired Musicians Social Club (Lithuania).
Translated from:
Festival In Latino
***
"Retired Musicians Social Club was founded in 2007. The club brings together musicians who strive to play and live right. The club's jazz improvisations are set in South America and colour their sound with traditional rhythms. "Retired" because they are not influenced by the direction of Lithuanian music, the club is like an island in the middle of the ocean, seeking to fill their hearts with pristine music."
Translated from:
AULA Blues Club
***

"Retired from life and dedicated to jazz! Retired Musicians Social Club is a social club of young musicians who challenge conventional norms, attitudes and methods of learning music. The members of the club strive to discover particular learning principles not written in sheet music or textbooks, to define everything precisely and at the same time to go against the stream. The RMSC, founded in 2007 in the basement of the Juozo Tallat-Kelpša Conservatoire, has from the very beginning united musicians striving to play and live right, and who have therefore "retired" and distanced themselves from the influence of the Lithuanian music trend. The club's activities, based on mutual respect and the desire to fill hearts with pristine music, emerged like an island in the middle of the musical ocean.
Translated from: "manogidas.lt"
Recently, the distinctive company of young musicians has been performing in Lithuania much less frequently than in foreign countries, especially in western Germany (Dusseldorf, Cologne), the Netherlands, and the group has been performing at various festivals, clubs, and even in the streets. The club members' views and creativity are reflected in jazz improvisations, stretching even towards South America, full of the colours of traditional rhythms, but at the same time the members strive to do everything in an organised and defined way, leaving no room for misunderstanding. RMSC explores mainstream jazz music and also spends a lot of time on in-depth research into Latin music."
Translated from:
"Summer Jazz Club"
View private customers recommendations (in LT)
Prominent festivals:
'08 Birštonas Jazz "Tango Extremal" (with V. Chekasin)
'08 L'viv Folk-Jazz festival (Ukraine; with "Bekešo Vilkai")
'08 Nida Jazz "Tango Extremal" (again with V. Chekasin)
'08 L'viv International Literary festival (trio)
'10 Birštonas Jazz , joint project with the Scots (with V. Chekasin)
'10 Jazz Fountain (with trio, as accompanists)
'11 Vilnius Jazz Young Power (trio)
'11 Elektrėnai Jazz Festival "Jaunystė" (RMSC quartet)
'11 "Jazz Improvisation", piano competition at LMTA (solo performance)
'13 "In Latino" with RMSC project "Visions from Brazil"
'14 "Jūros šventė" in Klaipėda with RMSC ant Antonio Palmisani
'15 Festival-competition "Jazz Fountain" (with trio as accompanists)
'16 Kaliningrad Jazz Festival (with RMSC quartet and US vocalist Mandy Gaines)